Music, Drama, and Performance
We have a thriving curricula and co-curricular music and drama program. Each year, our musicians enter a variety of ensemble, small group and individual categories at the QUOTA Beenleigh International Eisteddfod, regularly achieving outstanding results.

Additional educational opportunities at BAC includes musical productions. We believe that a disciplined study of music and drama is just as important as other academic fields. It not only enhances creativity, but also cultural participation, good study habits and memory skills. We also utilise music and drama to add meaning to our relationship with our Creator God.
Drama
In our fast paced world, creativity and self-confidence are key. Drama not only provides in-depth learning experiences in many areas of the dramatic arts, but it also offers challenges in personal growth. Students who take this subject grow in confidence, learn to work in teams and expand their creative abilities in tasks that are skill-based, interesting and related to their world.
In drama, students are exposed to a variety of challenging issues, which they explore while developing their acting skills and an understanding of dramatic styles, both historical and contemporary. Self-confidence and team work are nurtured as each individual is introduced to the power of performance.
Music
The Music Department provides quality music education from Prep to Year 12.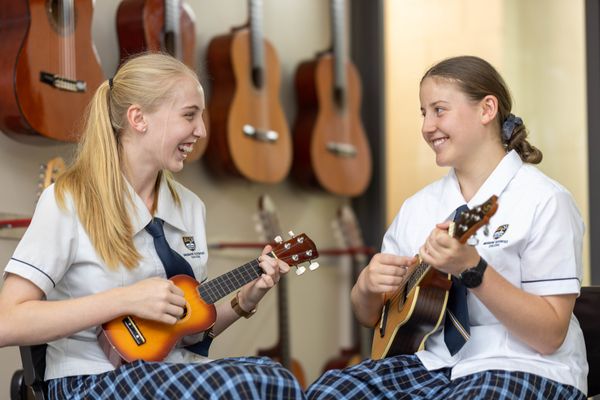 Over the course of their education at BAC, students study a variety of music forms and styles, including while developing their audiation skills. Our program is primarily based on the Kodaly pedagogical method, incorporating elements of pedagogical practice from Suzuki, Dalcrose and Traditional methods as well.
Senior Music is a Queensland Curriculum and Assessment Authority (QCAA) General Subject that contributes to a student's Australian Tertiary Admissions Rank at the end of Year 12. Senior Music is intended to increase the student's skills in the dimensions of composition, musicology and performance. It covers a wide variety of musical genres and equips students with skills of musicological analysis, synthesis and evaluation that are transferable across the many and varied styles of music. Students are encouraged to appreciate quality music and are given tools and skills for understanding, performing and creating their own music. Aural skills are emphasised and each student's ability on their chosen instrument (including voice) is given scope for development.
Music Extension is a second and more specialised subject offered at BAC. It is also a QCAA General Subject contributing to a student's ATAR and must be taken in addition to the Senior Music course.
Instrumental Tuition Program
We also offer an extra-curricular Instrumental Tuition Program which provides the opportunity for students to learn from expert teachers in Strings, Guitar, Keyboard/Piano and Woodwind instruments.
Ensembles
BAC ensembles provide the opportunity for both instrumentalists and vocalists to learn, rehearse and perform together in larger groups and in unique settings. Our ensembles often have the opportunity to perform at a variety of school-based and community events including College events and assemblies, church and chapel services, and external recitals and competitions.
We currently offer these ensembles:
Primary String Ensemble
Primary Choir
Secondary String Ensemble
Secondary Celtic Ensemble
Secondary Choir
Secondary Worship Band
Students wishing to join an ensemble should email music@bac.qld.edu.au to express interest.
Eisteddfod Competitions
BAC music students annually compete in the QUOTA International Beenleigh Eisteddfod and enjoy a tradition of success at this event. The College enters musicians in solo, small ensemble and large ensemble categories at the discretion of the Music Department staff. Student's demonstrated commitment to consistent practice and attendance at rehearsals is considered in selecting students eligible to represent the College at the Eisteddfod.
Musical Productions
We have a strong tradition of excellence in relation to musical productions. Students have opportunity to be involved in several productions from P-12. Students can be involved in lead roles, chorus roles, backstage crew, hair and make-up, choreography and more.

2022: The Prodigal Clown (Primary)
2021: Joseph And The Amazing Technicolour Dreamcoat (Secondary)
2019: Narnia, The Musical (Secondary)
2018: Happily Forever After (Primary)
2017: Getting To Know… The King and I (cross-campus)
2015: Fiddler On The Roof Jr (Secondary)
2014: We Like Sheep (Primary)
2013: For Such A Time As This… An Esther Story (Secondary)
2011: It's Cool in the Furnace (Primary)
2010: High School Musical (Secondary)
2009: Holy Moses (Primary)
2008: The Scarlett Pimpernel (Secondary)
2007: An Esther-ordinary Faith (Primary)
2006: Smithy (Secondary)
2004: The King And I (Secondary)
2000: Joseph And The Amazing Technicolour Dreamcoat (Secondary)